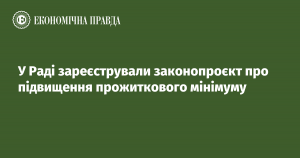 The minimum subsistence level in accordance with Article 7 of the Law of Ukraine "On the State Budget for 2020" of 14.11.2019 will be:
– the total figure per person per month – 2118 UAH;
– for children under 6 years – 1859 UAH;
– for children aged 6 to 18 years – 2318 UAH;
– for able-bodied persons –  2,197 UAH;
– for persons who have lost their working capacity – 1,712 UAH.
Along with raising the minimum subsistence level of the population, positive changes are expected in the calculation of the minimum wage. From 1st September  2020, the Government plans to increase the minimum wage to 5 thousand hryvnias, and from 1st January  2021 – to 6 thousand hryvnias.
While the Government is preparing changes and amendments to the legislation for us, we ask you to remain calm and adhere to quarantine restrictions!