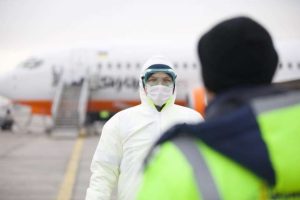 As you know, on June 16, Poland decided to restrict international flights with a number of countries due to the coronavirus pandemic. Ukraine was also included in this list, so all scheduled flights were canceled. This decision was made by the government.
Thus, the airspace, according to the resolution, will be limited from 17 to 30 June for all non-EU countries, as well as Sweden and Portugal, which are members of the EU.
It's noted that on June 17, Wizz Air canceled all scheduled flights from Kiev to Warsaw and Krakow. Ryanair has closed ticket sales for Kyiv-Krakow flights, which were scheduled to resume in June.
However, following a briefing of the Parliamentary Assembly meeting held on June 23, 2020 by video conference, Polish Ambassador to Ukraine Bartosz Tsikhotski expressed hope that flights between Poland and Ukraine will resume in early July.
Bartosz Tsikhotski also noted that: "There are talks about a railway connection, but here the priority is safety. And now, unfortunately, in the border regions of Ukraine, the situation with COVID is such that it is difficult for me to imagine that the railway connection will work. From the beginning of July we hope to restore communication by planes. It can ease the situation at the border".
It should be noted that from July 1, additional checkpoints may be opened on the Ukrainian-Polish border, said Deputy Speaker of the Verkhovna Rada Olena Kondratyuk. After all, only one Shehyni checkpoint is currently open.
You can get acquainted with the list of persons who can cross the border with Poland for the period of quarantine by following the link: https://www.gov.pl/web/ukraina-uk/komunikat-wjizd-do-polszczi